Regular price
$19.00 USD
Sale price
$37.00 USD
Unit price
per
Sale
Sold out
This is a pdf woodworking plan of our 3 bin Worm Studio so that you can build it yourself! Upon placing an order, you'll receive an email with downloadable links. The plan includes instructions for building the version with a flat lid as well as the version with the planter mod. 

Skill level - amateur
Tools - Saw, drill, screwdriver and tin snips
Materials - Cedar planks, hardware cloth, rope, screws
Our plans include a list of all the materials you'll need to build your Worm Studio and step by step instructions. It's pretty simple to follow along for people with any skill level.

_________________________________________________
With this DIY guide, you also receive:
👉 Lifetime support through our thriving online community.
💩 A copy of our Worm Parenting guide to help you get started composting with worms!
_________________________________________________
If you choose to buy the hardware from us, you will receive -
1. Galvanized tray for the bottom of the worm farm
2. 4 pieces of metal 1/4" hardware mesh cut to size (includes mesh for the planter mod)
3. 2" phosphate screws to attach the sides together) 
4. Flathead screws (to attach the mesh in the bottom)
View full details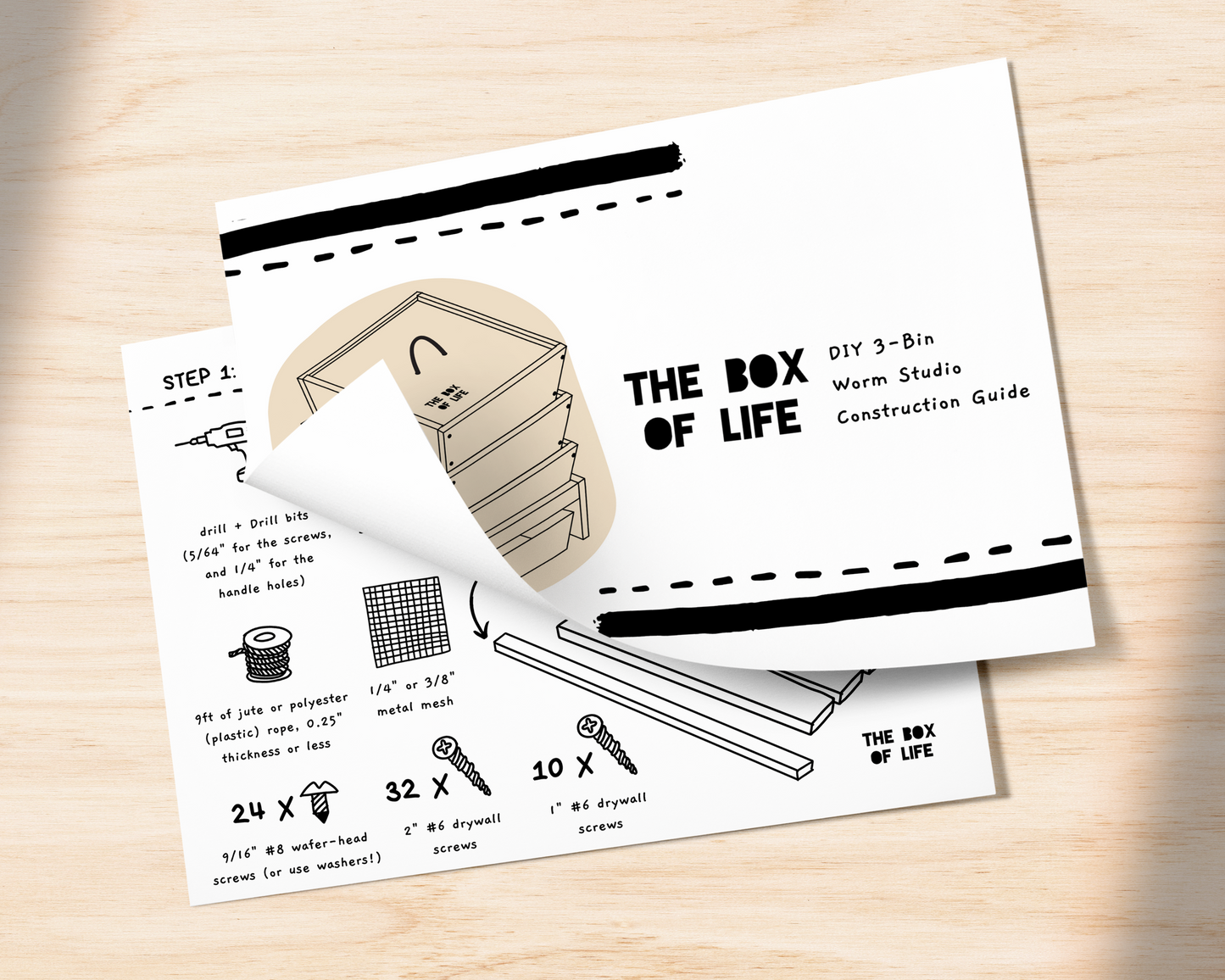 Great plan!
This plan did not disappoint. If you have extra wood scraps and the tools to make the worm studio, it's so much fun. It's also a great activity to do with kids. Having a plan helped me customize it to my liking. For instance, the measurements of our boxes were different, so I created a lid that sat on top of the edge instead of inside. No regrets with this plan. I like that I can create more layers or another box if I want, whenever I feel ready. :)
Great detailed plan for the worm studio
I really liked the plan and the guide for the worm studio.
A great project to do with kids and grand kids.
Guy
Love it
Akil is very helpful, and questions and he is eager and able to answer. Love it. Always wanted a worm studio and this gave me the push to do it :)
Those plans helped a lot
I had materials gathered to make a worm farm apartment, and the DIY plans were the last thing I needed. I adapted the design for my particular materials and it worked out fine. The plans gave me the confidence to jump in.
Super plans - super workshop, too!
The plans are great - Very clear and easy to follow - Attending a workshop to construct the worm studio with support and advice about care for the worms was the best, though!